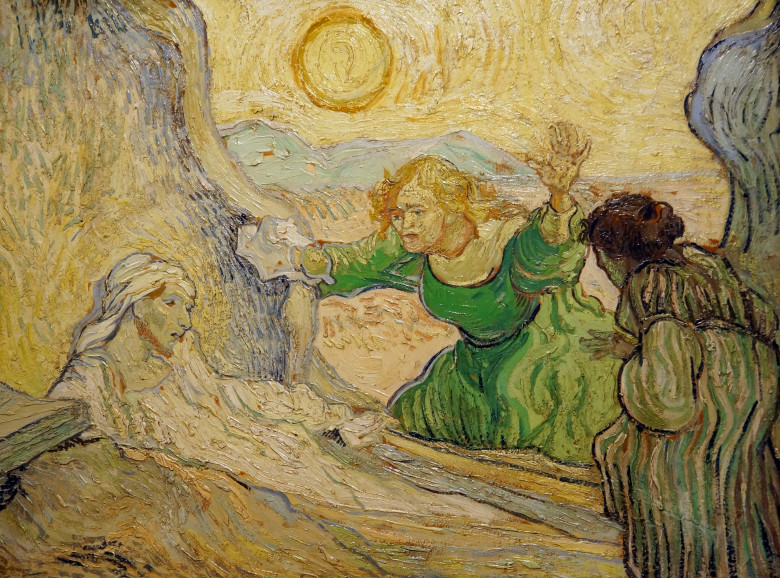 The other day, I talked about the need to
reevaluate lent
. The lenten practice that I've found really helpful, especially in this time of pandemic, is both
being real
and
having hope
, understanding that it's important to do both together. It's a practice that the Scripture story of the "Raising of Lazarus" has really helped me understand and practice.
Being Real and Having Hope
By "be real," I mean to courageously acknowledge the truth of what is going on – in the world, in my community, and in my home – which includes honestly accounting for feelings, whether anxiety and sadness or laughter and love. Therein, it's the humility to be real with both joys and sorrows… with both success and struggle… with both death and Resurrection… with myself, with others (including my kids) and with God.
By "have hope," I mean to continually have faith in the transforming power of God in the Paschal Mystery. To hope is to both trust in God and to actively cooperate with God's grace. Hope is a bit of an elusive virtue for many of us. We tend to take it to one of two unhelpful extremes, with either too much reliance on self (while lacking trust in God) or too much professed reliance on God (without bothering to discern how God may be calling us to cooperate with grace).

I need to, I want to, and I have to do both: be real and have hope. To only focus on one without the other leads to more unhealthy extremes: negativity-and-panic… or saccharine-sweet-rainbow-unicorns. (Read more about the virtue of hope here.)
The Raising of Lazarus
The Gospel for the 5th Sunday in Lent, the Raising of Lazarus (John 11:1-45), speaks to both "being real" and "having hope."
Jesus receives word from his good friends, Martha and Mary that their brother Lazarus is ill. But instead of rushing off, Jesus curiously stays where he is for two more days. By the time they arrive in Bethany, Lazarus has been dead for four days. First Martha (v.21) and then Mary (v.32) each greet Jesus by, saying "If you had been here, my brother wouldn't have died."
How many times have we similarly lamented, "Why? Why didn't God do something to stop this?" Even now, amid the Coronavirus pandemic, how many of us have wondered "Why has God allowed this to happen?!"
In The Passion and the Cross, Ronald Rolheiser, OMI redirects our "Whys?" simply and succinctly: Because our God is a fellow-sufferer and a Redeemer, not a Rescuer.
"God doesn't ordinarily intervene to save us from humiliation, pain, and death; rather, he redeems humiliation, pain, and death after the fact" (38).
Honestly articulating our questions and struggles directly to Jesus is being real, but Martha and Mary don't stop there. They don't just speak their sorrow. Immediately following her lament, "If you had been here…" Martha models having hope: "But even now I know that whatever you ask of God, God will give you" (John 11:22).
And Jesus. Even though he knew he was about to raise Lazarus from the dead, we find Jesus deeply troubled by the reality of the situation. It's here that we read the shortest verse in all of Scripture, "And Jesus wept" (John 11:35). Talk about being real with emotion!
Having hope in a God who Redeems (not rescues) means that things might not unfold as we would expect. Things certainly didn't unfold the way Martha and Mary expected. Nor did things unfold the way the disciples expected following the Crucifixion.
Having hope in a God who Redeems means we are open to goodness and grace – especially when we least expect it!
(More on that in the next post!)
Are you able to be real and have hope about your joys and sorrows in the midst of all that is going on? (Or do you find yourself going to unhelpful extremes?)
Do you expect God to be a rescuer?
If you enjoyed this post, Please Share