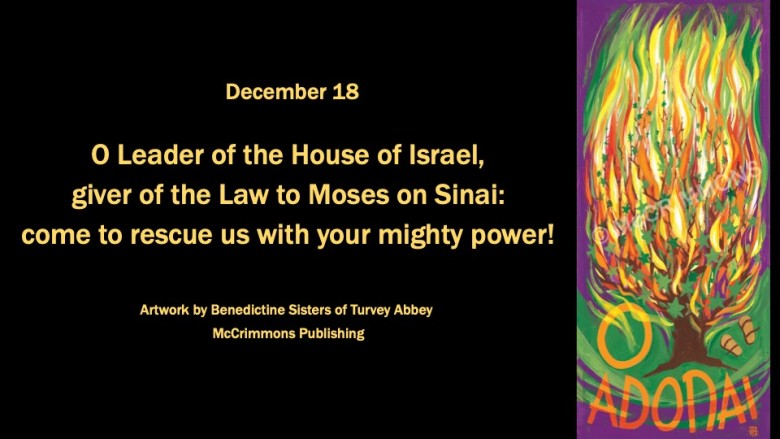 December 18th – O Adonai!
December 18
O Leader of the House of Israel,
giver of the Law to Moses on Sinai:
come to rescue us with your mighty power!
O Adonai: O sacred Lord of ancient Israel, who showed yourself to Moses in the burning bush, who gave him the holy law on Sinai mountain: come, stretch out your mighty hand to set us free. Isaiah had prophesied, But He shall judge the poor with justice, and decide aright for the lands afflicted. He shall strike the ruthless with the rod of his mouth, and with the breath of his lips he shall slay the wicked. Justice shall be the band around his waist, and faithfulness a belt upon his hips. (Isaiah 11:4-5); and Indeed the Lord will be there with us, majestic; yes the Lord our judge, the Lord our lawgiver, the Lord our king, he it is who will save us. (Isaiah 33:22). (From Catholic Resource Education Center)
In case you missed, December 17 begins the O Antiphons, with  O Wisdom. While working on a project for St. Mary's Press, I came across artwork by the Benedictine Sisters of Turvey Abbey that captures the vibrant and joyful anticipation of Advent in the O Antiphons.  These images and reflections from the Catholic Resource Education Center are so beautiful, I needed to share!
The O Antiphons are seven brief sentences that highlight a title for the Messiah and a prophecy of Isaiah about the coming of the Messiah.  Part of the liturgical tradition since the very early Church, these beautiful theological statements are prayed in Vespers, or evening prayer, during the last days of Advent, from December 17-23. For more information about the artwork, visit the McCrimmons, a UK  Publishing Company.
If you enjoyed this post, Please Share