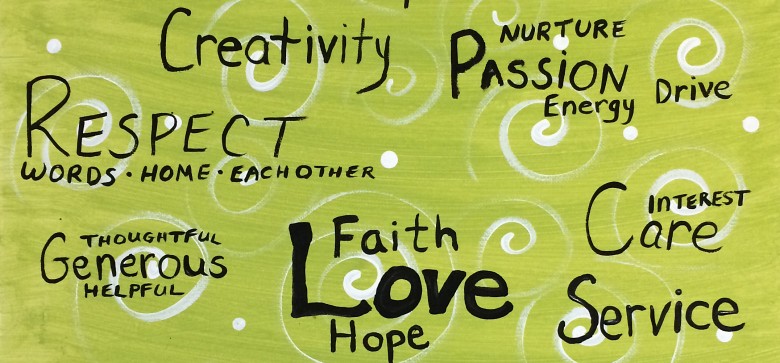 Intentionally Living Out Your Values
In this Season of Advent–as many families are preparing for Christmas–there have been a few families that have made some big, intentional decisions about how they will celebrate this season.
There's one with what's called a "click-bait" title that you may have seen (click-bait means it's an intentionally provocative title that baits you to click and read) called: Why My Husband and I Cancelled Christmas." It was picked up by both the Today Show and the Washington Post.  Despite the title, it's a good article: the parents decided to reject the cultural consumerism of the secular holiday season and instead, focus on service to others.  Their biggest motivator in doing so was battling the sense of entitlement that they have begun to notice in their children.
Then, in "The Secret to an Intentional Christmas," Jennifer Fulwiler of Conversion Diaries reflected on a conversation she had on her Sirius XM radio show with another Catholic-mom-blogger, Kendra about her post "Seven Reasons My Kids Don't Need Toys This Christmas."
What I love about what Kendra is doing is that
she's questioning key cultural assumptions about what it means to celebrate this season
— even some of our most deeply-entrenched assumptions, like the idea that there should be toys under the Christmas tree.
Emboldened by her example, I've started to look at every single thing we typically do during Advent and Christmas, and I ask myself two questions:
Do we really have to do this?
Does doing this reflect the values that are most important to us as a family?
I talked to Kendra on my radio show about this this week, and one of the interesting things that came from the discussion was the realization that you can't choose activities that reflect your family's values if you haven't taken the time to clarify what your family's values are in the first place.
Let's say that again: you can't choose activities that reflect your family's values if you haven't taken the time to clarify what your family's values are in the first place.
Before we married, before we had kids, both my husband and I read Stephen Covey's Seven Habits of Highly Effective People.  While we had found its insights useful in our professional and personal relationships, the application of Seven Habits to our family is worth noting.  Putting the first three habits into practice—being proactive, writing a mission statement, and prioritizing our time, efforts, and energy—made a tremendous difference in focusing us into the kind of family we want to be, and the kind of children we want to raise.  In a word, it helps us be intentional.
Our family mission statement began as a list of words that reflect our values: love, respect, responsibility, learning, playfulness, fun, joy, quality family time, creativity, passion, care, generosity, integrity, gratitude, forgiveness, compassion, service, and communication.  In and through each of these values—guiding and sustaining them—is faith and hope.
At first we brainstormed our list at the dinner table, transcribing them with a sharpie onto a piece of scrapbook paper.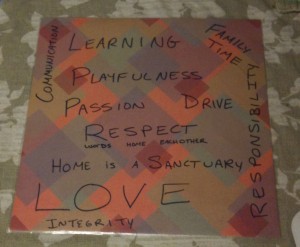 Initially the boys were too young to really participate in the conversation, but as we have added to the group of words over time, the boys have also contributed to the mission statement. By working on it together, we make sure it reflects all of us.  Eventually I painted the words on a canvas with a nice background.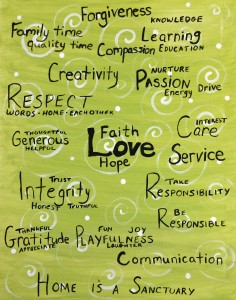 Our family mission statement hangs in our dining room, reminding us of who we are and how we will be with each other and the world around us.
As different negative, unhealthy behaviors come up, we have pointed to our family mission statement and reminded the boys that's not who we are; that's not what we are about.
Likewise, the Family Mission Statement reminds us that we are committed to playfulness and fun, so we are sure to make time to play a family game, or go on a bike ride to the park, or drive over to the Kemah Boardwalk and ride the roller coaster.
Try it: grab a sharpie and a piece of pretty paper.  At dinner, talk with your family–or your spouse or yourself–about what your guiding values are.
The next step is to put it into practice and make sure that how you spend your time, efforts, and energy reflect your values.
Have you given thought to expressing what your values are?
What is one way that you practice living out your values on a daily/weekly/monthly basis?
What is one thing you could do this week to be more focused on living according to your values?
If you enjoyed this post, Please Share