Preparing, Waiting, and Joy
I love how life teaches me about faith.
Advent is about waiting and preparation.  I know that.  I knew that.  Except I didn't really get it until the year I was pregnant.  That was the year I encountered the blessed waiting of Advent as an expectant mother in her first trimester.
Up till then, my "preparations" were focused on gift-giving and party-attending.  Don't get me wrong – I planned, prepared, and purchased gifts from the heart.  I organized Christmas caroling at the nursing home for my high school students.  I participated in Giving Trees.  It wasn't that I was self-centered and materialistic… I just didn't get the whole waiting and preparation thing.

But that Advent when I was pregnant with my first child, I sat at Church one Sunday, ever-so-aware of how nauseated I felt, ever-so-aware of the little life growing inside me, and ever-so-in-awe of the path that lie ahead. Preparation wasn't about nursery colors, registries, and baby names.  It was about preparing our lives–and our marriage–to receive and raise a child.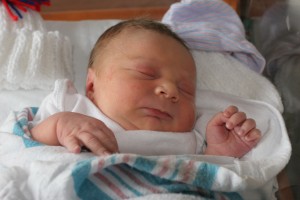 Fast forward nine years.  I thought I knew what
waiting
and
preparation
were about.  And then, on December 1st, the day after the First Sunday of Advent, my husband came home with the news that he was being furloughed.  Furloughed is not unemployed; you technically keep your job but aren't allowed to work until the company can afford to pay you.  He's an aerospace engineer, working for a company contracted by NASA… How long would the furlough last?  Until contracts were signed and there were funds to pay for his position.  Possibly in a day or so… possibly 4-5 weeks.
So we waited… and hoped… and prayed.
In the waiting, there was an absurd amount questioning (particularly second guessing financial decisions and employment possibilities) and the awareness of a humbling loss of control.  From day to day there would be a glimmer of hope, and then a "no."  A lot of uncertainty.
Through it all, I was struck by a deep sense of perspective.  We faced temporary unpaid leave.  Many are in the midst of long-term unemployment.  Others face terminal illnesses or a tragic loss of a loved one.  Sure, we'd rather not be in this situation, but it could definitely be worse.
This past Friday, after two weeks of uncertainty, Peter went in to work for a meeting and then used up the last of his paid leave.  There was one more glimmer of hope: his company had won a contract with three-persons-worth-of-work, but it was a matter of waiting to see if they would assign it to him.

Sure enough, the answer came Saturday night while we were at his boss's house for a Christmas party.  Praise God, Peter was assigned to part of that new project and could return to work on Monday.  Awash in joy, I couldn't wait to share the news!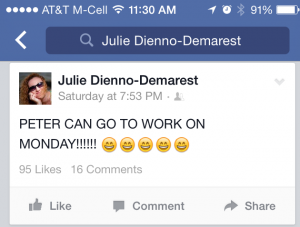 The next morning was the Third Sunday of Advent – Gaudete Sunday, which is Latin for joy!  We light the pink candle and remember to be joyful.  Let me tell you, joy radiated from within, and it felt incredible!
Children seem to dabble in joy so easily, especially at Christmas; adults seem to struggle with stress, especially at Christmas.
We really do need that pink candle to remind us to be joyful.
Well, with this good news, I was determined to be joyful!
To be honest, although I had been setting aside money from Criagslisting old toys, I was hesitant to do any Christmas shopping until I knew whether we might need those funds in other ways.  So between Amazon and all the other stores for all the other things, I've been buying gifts this week.  It's a little crazy out there.  It's tempting to forget joy and embrace stress… after all, everyone else is doing it.
So every day this week, in the midst of every errand, I find myself pausing in reflective prayer: I am so thankful for the opportunity to do this. I choose joy.
 I invite you to do the same: choose joy!
How has your life taught you about faith recently?


How can you choose joy this week?
If you enjoyed this post, Please Share