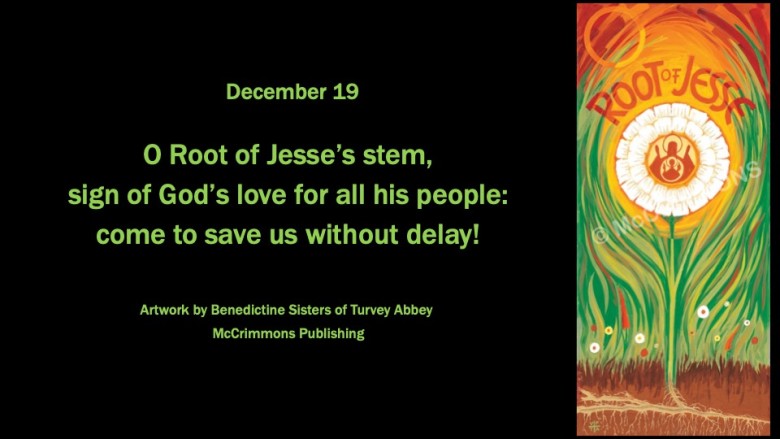 December 19 – O Root of Jesse
December 19
O Root of Jesse's stem,
sign of God's love for all his people:
come to save us without delay!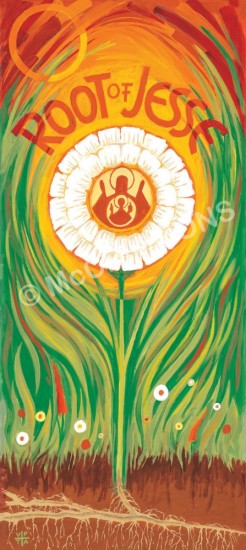 O Radix Jesse: O Flower of Jesse's stem, you have been raised up as a sign for all peoples; kings stand silent in your presence; the nations bow down in worship before you. Come, let nothing keep you from coming to our aid. Isaiah had prophesied, But a shoot shall sprout from the stump of Jesse, and from his roots a bud shall blossom. (Isaiah 11:1), and A On that day, the root of Jesse, set up as a signal for the nations, the Gentiles shall seek out, for his dwelling shall be glorious. (Isaiah 11:10). Remember also that Jesse was the father of King David, and Micah had prophesied that the Messiah would be of the house and lineage of David and be born in Davids city, Bethlehem (Micah 5:1).  (From Catholic Resource Education Center)
In case you missed, December 17 begins the O Antiphons, with  O Wisdom. While working on a project for St. Mary's Press, I came across artwork by the Benedictine Sisters of Turvey Abbey that captures the vibrant and joyful anticipation of Advent in the O Antiphons.  These images and reflections from the Catholic Resource Education Center are so beautiful, I needed to share!
The O Antiphons are seven brief sentences that highlight a title for the Messiah and a prophecy of Isaiah about the coming of the Messiah.  Part of the liturgical tradition since the very early Church, these beautiful theological statements are prayed in Vespers, or evening prayer, during the last days of Advent, from December 17-23. For more information about the artwork, visit the McCrimmons, a UK  Publishing Company.
If you enjoyed this post, Please Share