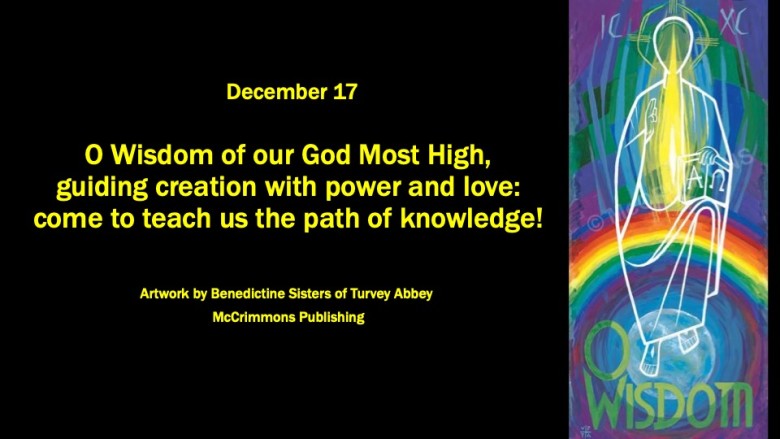 December 17 – O Wisdom
While working on a project for St. Mary's Press, I came across artwork by the Benedictine Sisters of Turvey Abbey that captures the vibrant and joyful anticipation of Advent in the O Antiphons.  The O Antiphons are seven brief sentences that highlight a title for the Messiah and a prophecy of Isaiah about the coming of the Messiah.  Part of the liturgical tradition since the very early Church, these beautiful theological statements are prayed in Vespers, or evening prayer, during the last days of Advent, from December 17-23. For more information about the artwork, visit the McCrimmons, a UK  Publishing Company.
December 17
O Wisdom of our God Most High,
guiding creation with power and love:
come to teach us the path of knowledge!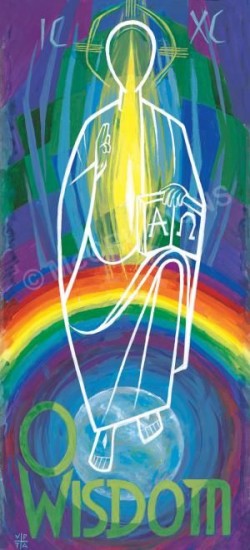 O Sapientia: O Wisdom, O holy Word of God, you govern all creation with your strong yet tender care. Come and show your people the way to salvation. Isaiah had prophesied, The spirit of the Lord shall rest upon him: a spirit of wisdom and of understanding, a spirit of counsel and of strength, a spirit of knowledge and fear of the Lord, and his delight shall be the fear of the Lord. (Isaiah 11:2-3), and Wonderful is His counsel and great is His wisdom. (Isaiah 28:29). (From Catholic Resource Education Center)
If you enjoyed this post, Please Share