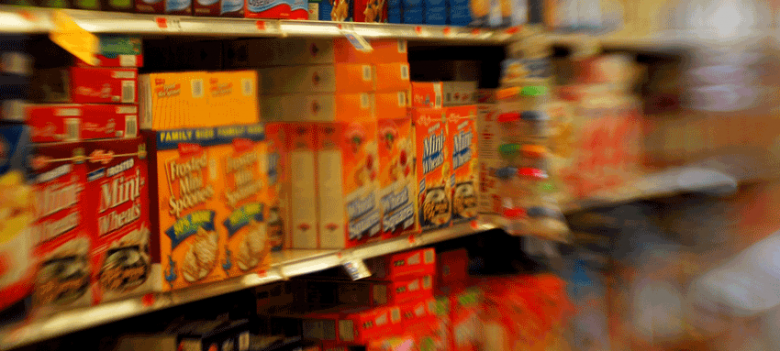 Many Parts
My sister and I often catch-up while I'm cleaning the kitchen and she's driving somewhere. Most of the time, it's your simple sisterly exchange-of-love-and-information phone call.
Laurie has been volunteering with SafePlace, a shelter for battered and abused women (and their children) in Austin. One of her stories struck me more deeply than others. Probably for the sheer banality of it all.
Laurie worked in the food pantry on Friday, helping the residents "shop" for the week. She surmised that cereal the pantry had to offer must have been donated by HEB as near-expiration-overstock that no one wanted – one of those full of fiber (and it tastes like it) cereals. There was a little boy who accompanied his mother in line. When they asked for cereal, and he saw the one and only option, he started to cry to his mother, "I don't want that kind. I want our regular kind. Why do we have to be here? I just want to go back with Dad."
The emotional devastation of every woman in the room could be felt.
The littlest things that we take for granted can bring such simple joy for those who are so broken and vulnerable. Once she returned home, Laurie posted a simple request to her local friends on Facebook. In addition to cereal and pancake mix for kids, the Moms wanted popcorn and chips for movie night, and as an extra special treat, some Betty Crocker boxed cake or cookie mixes.
As my sister has made a commitment to volunteer with various organizations in the Austin area throughout the past few years, she has continually posted simple requests like these on her Facebook wall. She even tells her friends that she'll go  to them to pick up the donated items.
Laurie's simple, specific posts certainly help direct the "givers" generosity to meet the "recipients" basic needs/wants. But she also does a tremendous service to raising awareness of social issues and offering both a model and vehicle of charity to her 300+ Facebook friends, some of whom might never consider the multitude of difficulties a victim of domestic violence faces.

I don't want that kind. I want our regular kind. Why do we have to be here? I just want to go back with Dad.
When Laurie told Mom this story, not surprisingly, Mom offered to finance a "treats" run to stock the pantry. But in reflection, Laurie asked an important question:
It's great that Mom is buying them groceries this month, but what about next month?
And that's the point in the phone call where I went all theologian on her.
Now there are varieties of gifts, but the same Spirit; and there are varieties of services, but the same Lord; and there are varieties of activities, but it is the same God who activates all of them in everyone. To each is given the manifestation of the Spirit for the common good. To one is given through the Spirit the utterance of wisdom, and to another the utterance of knowledge according to the same Spirit, to another faith by the same Spirit, to another gifts of healing by the one Spirit, to another the working of miracles, to another prophecy, to another the discernment of spirits, to another various kinds of tongues, to another the interpretation of tongues. All these are activated by one and the same Spirit, who allots to each one individually just as the Spirit chooses. For just as the body is one and has many members, and all the members of the body, though many, are one body, so it is with Christ. (1 Corinthians 12:4-12)
Everything that Laurie is doing right now for SafePlace is important – from personally volunteering to telling stories to posting donation requests on Facebook. But she's not in the financial position to stock the pantry.
That's ok.  
There are many parts. We are all one body.
Without the time to shop or undergo training for volunteering, Mom donated money. That's all she was in the position to do at the moment.
That's ok.
There are many parts. We are all one body.
Laurie and I share the frugal, money-saving, coupon clipping gene. So I suggested she consider clipping those coupons for items she doesn't personally use, follow the sales posted on our favorite savings blog Hip2Save, and snag deals on these items. I can help with this, I say. I can't volunteer or donate money, but I'll keep an eye out for deals and sales.
That's ok.
There are many parts. We are all one body.
So we wrap up the phone call (as she arrived at her destination and my kids needed something like food or attention), and we each go about our day.
Six hours later, I walk in to Kroger and see that they are having a 3-day sale on limited varieties of GM cereals – cereals with a sugar content that I do not want to give my kids and would normally never buy. In the before-you-walk-in-the-store, where you grab your cart, there's a display offering these cereals 2 for $3. And I have coupons. Of course. So each of the boys got to pick out a cereal for "families who are going through a difficult time."  Four boxes of cereal cost me $3.75 out of pocket.  That I can do.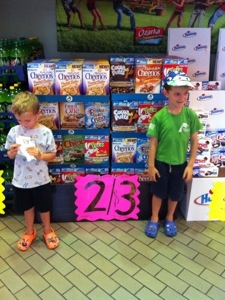 Of course I called Laurie to tell her how yes, indeed, the Spirit is at work.  And in her usual joy, Laurie remarked: "This is amazing!"
Sometimes faith leads us to service.
For I was hungry and you gave me food, I was thirsty and you gave me something to drink, I was a stranger and you welcomed me, I was naked and you gave me clothing, I was sick and you took care of me, I was in prison and you visited me. (Matthew 25:35-36).
And sometimes it is the experience of service that leads us to a deeper faith and spirituality.  It is that experience of service in which we are completely filled with love and joy.  It is that experience of service where we are overwhelmed by this "good feeling" and the only words we can muster is a humble recognition that we have received so much more than we gave.  THIS is the experience of divine agapic love (see here and here for further explanation on this).
This is my commandment, that you love one another as I have loved you. (John 15:12)
When we accept the invitation of Christ to love others as he loved us, we are filled with the divine presence.
Thing that we need to remember when it comes to service — when it comes to a faith that does justice — is that (a) don't think it all depends on you to do everything.  That's what we call a Messiah complex.  And honestly, we already have one of those.  And (b) don't think there's only one way to help.  Do what you can.  Where you can.  When you can.
There are many parts. We are all one body.
---
cereal aisle by Ben McLeod licensed under CC BY-NC-SA 2.0
If you enjoyed this post, Please Share