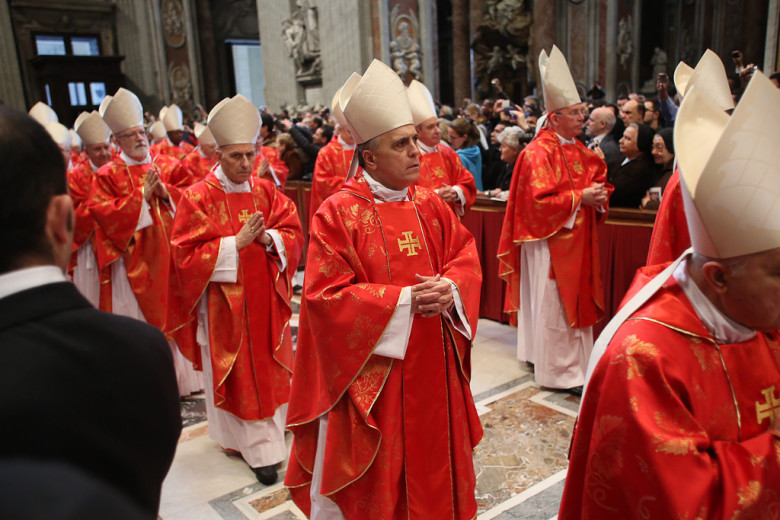 On Friday night, while presiding at Stations of the Cross at the Co-Cathedral in Houston, Cardinal DiNardo suffered a mild stroke. He was promptly brought to the hospital, is resting comfortably, and is looking forward to getting back to work.  I ask you to join the Archdiocese of Galveston-Houston to pray for the recovery of Cardinal DiNardo.
While Cardinal DiNardo is likely to make full recovery, such a situation prompts questions about what would happen if he died; would he be replaced by another Cardinal or would it be an archbishop?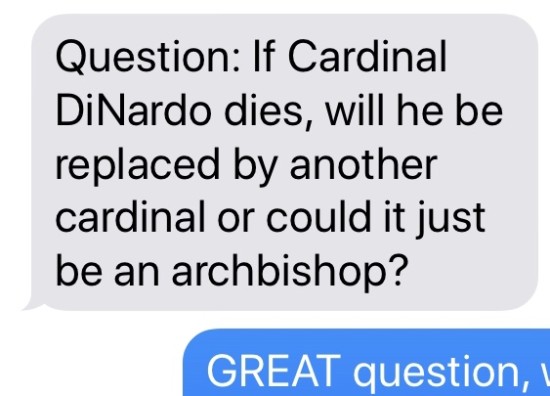 The ranking of Cardinal is appointed by the Pope, with the primary responsibility of electing the next Pope. According to the Code of Canon Law, there can only be 120 under the age of 80, who can vote. (This was set by St. Pope Paul VI in 1970). Therein, it's important to point out that "Cardinal" is a an office in the Church, not a "rank" higher than bishop.  The Sacrament of Holy Orders has three degrees: deacon, priest, and bishop.  This means that Archbishops, Cardinals, and Popes are all bishops.
In Houston, Bishop George Scheltz is the auxiliary bishop. An auxiliary bishop is appointed to assist a diocesan bishop, meaning Bishop Scheltz is Cardinal DiNardo's assistant. The role of auxiliary bishop is distinct from a coadjudtor bishop. "Unlike an auxiliary bishop, he has the right of succession, meaning that he automatically becomes the new bishop when the diocesan bishop retires or dies" ("How Bishops are Appointed," USCCB). This means that Bishop Scheltz would not necessarily become the Archdiocese of Galveston-Houston's archbishop.
Whether it's a diocese or archdiocese depends on the size of the metropolitan area. Whether one is a bishop or archbishop depends on where he is serving: bishops shepherd a diocese and archbishops shepherd an archdiocese.  Since we're an archdiocese, whoever would be our bishop would automatically become an archbishop.
One last note: unlike the government of a nation where immediate decision-making power is often expected, the same is not true for the Church. "It often takes six to eight months—and sometimes longer—from the time a diocese becomes vacant until a new bishop is appointed("How Bishops are Appointed," USCCB).
Do you have additional questions? Does this answer spark other questions? Let me know! Leave a comment and I'd be happy to answer!
If you enjoyed this post, Please Share